Joe Kidd and Sheila Burke- Voices For The Ages
I recently had a conversation, via phone, with a friend who is also a fest media person and publicist, Karen Wells Verlander, from Wisconsin. Over a year ago we were discussing our unique festival programs. We were in the planning stages of our respective festivals, Blue Ox for Karen, and The John Hartford Memorial Festival for us. Then, Covid. You know the rest of the story. JHMF was cancelled along with so many other festivals. Karen brightened up my hope as she told me, "We are ready to emerge from the Covid Cave". Folks are getting out. The pandemic is still alive and mutating, but people are emerging, hopefully, carefully, and aware. 
JHMF- We had another exciting line-up planned but things had to be put on hold. Coming up in just a few weeks, The Bill Monroe Bluegrass Park is hosting what will be called the John Hartford Campout. This gathering will honor our late founder, John Hotze and pay respect to our namesake, John Hartford. Bands will play on one stage and masked, distanced folks, JHMF fans and family will gather. My wife, Patti, and I will not make this trip this year. Hopefully 2022 will be right for us. I was all set to do Story Songs with my new friends, Joe Kidd and Sheila Burke. Joe and Sheila were finalists in the JHMF Songwriter's Challenge and were originally booked to perform at JHMF 10, the fest that Covid cancelled. I was excited to finally get to meet them in person and present them in Story Songs. Maybe someday. In the meantime, for Words of Ernest and The Morning Bugle Blog and fest folk family, I asked Joe and Sheila to do this interview to let folks know just who these world traveling, award winning songsmith/poets are in a format very similar to the onstage discussions that Story Songs is all about.
Joe and Sheila share a common heritage of Irish and North American traditions that comes from the Appalachian region of Kentucky and West Virginia. They are now based in Ann Arbor/Detroit Michigan. The melodies that come from the hearts of these two remind me of the movement music of the 60s in flavor and mood, but easily transcends any period of musical recorded history. Their lyrics are timeless and deep. Not a word wasted or thrown in for "fill". I listen to a lot of music, a lot of songwriters and genres. When I listen to Joe and Sheila, I truly get a tingle. My emotions are awakened and my vision gets set because Joe Kidd and Sheila Burke aren't driven for commercial success, nope, not at all. Joe and Sheila are driven by compassion and mission. They aim to stimulate thought and action. They didn't tell me this. I felt it immediately. In a world full of performing artists who think the world needs their music, you won't find Joe and Sheila grinding and shoving and pushing for that spotlight. You will find Joe Kidd and Sheila Burke where they are needed, and that, to me, is in my heart, adding courage and hope.
Joe & Sheila received back to back Detroit Music Awards for World Music Songwriters Of The Year in 2013 & 2014.
While onstage at Detroit's annual World Music Festival 2015 Concert Of Colors they were presented with a Michigan Governor's Award for Artistic Excellence and their efforts for Social Justice, Peace, & Cultural Diversity by their State Representative.
On June 1, 2017 Joe Kidd was inducted into the Michigan Rock & Roll Hall Of Fame.
December 2018 brought them World Songwriters Award - Best Duo.
On April 10, 2019 Joe & Sheila received a Congressional Certificate of Recognition from the U S House of Representatives while onstage at Dearborn Center of the Performing Arts. 
Fall of 2019 brought Best Acoustic Song from Clouzine International Music Magazine.
The recognition continues.  On August 15 2020 Joe Kidd & Sheila Burke received an International Singer-Songwriter Association award for Vocal Duo Of The Year. 
To read the entire interview, click here.
"MOONFLOWER" Lily B Moonflower tells you who she is upon her debut album release!
I met Lily B Moonflower when she entered our JHMF Songwriters Challenge. Not long after receiving her entry I learned that Lily would be on my panel of songwriters for Story Songs with Ernie, at the Pickin' On Picknick fest in Cuba, MO. several weeks after JHMF 9. So conversation happened and Lily was added to our JHMF Emcee Crew. Lily is a dynamic young songwriter, artist, wood worker, pet adoption advocate from Lawrence KS. Friday, Feb, 12., Lily will release her first official album, "Moonflower", on Lost Cowgirl Records. This complete album consists of 10 original "folk-n-roll with a twang" songs performed with Lily's fresh and smooth voice. She sounds like herself. LIly is accompanied by some of the best musicians that KC/Lawrence has to offer,and that's saying a lot!  Click here to read the full interview and learn all about JHMF Family member, Lily B Moonflower. In the meantime, here's an official video, Midnight Song, from Lily B Moonflower's "Moonflower".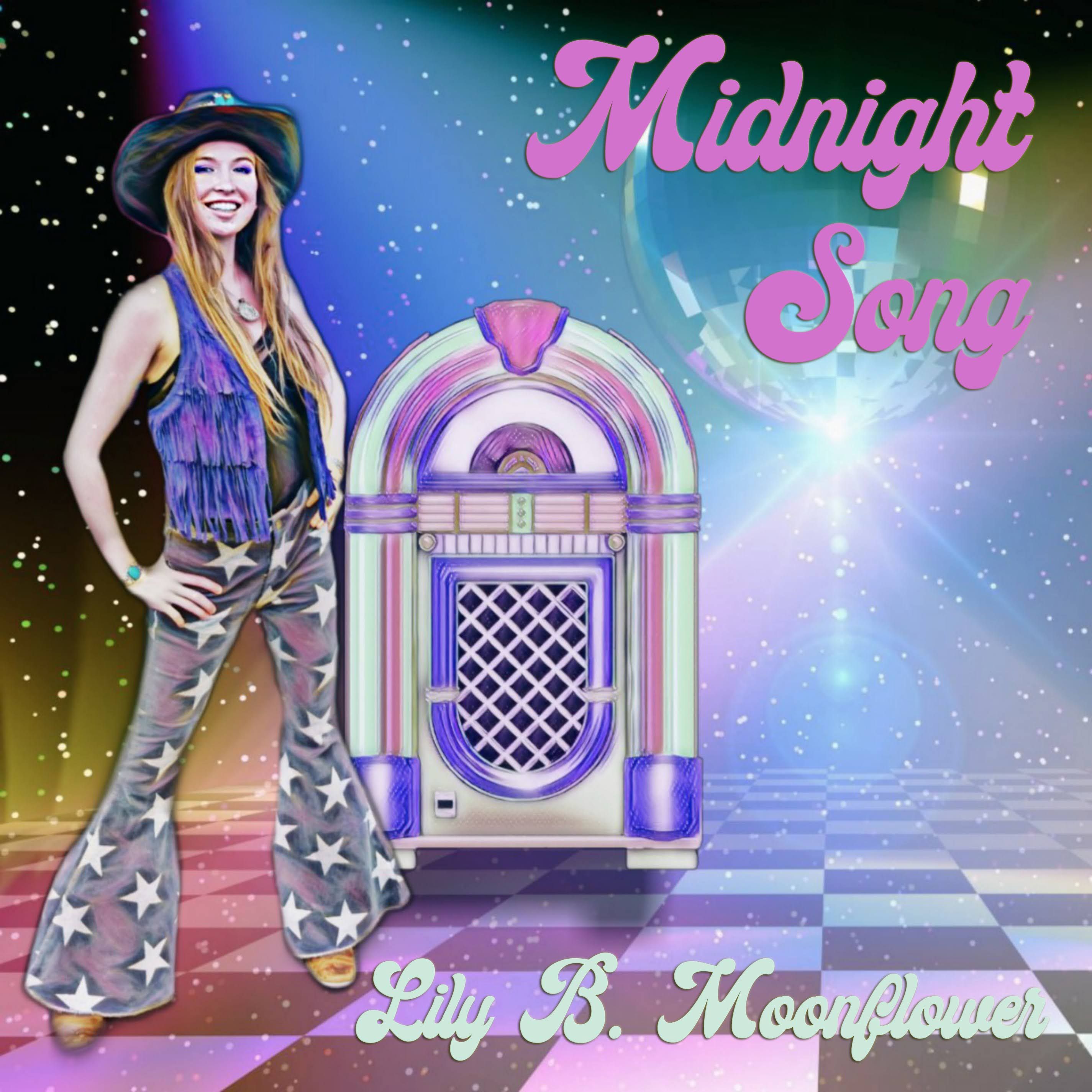 "Just Over The Ridge" New EP from Lizzy Plotkin and Natalie Spears